Opel Insignia: Additional Storage Features
Cargo Cover
Warning: An unsecured cargo cover could strike people in a sudden stop or turn, or in a crash. Store the cargo cover securely or remove it from the vehicle.
Warning: Do not place objects on the cargo cover. Sudden stops or turns can cause objects to be thrown in the vehicle. You or others could be injured.
If equipped with a cargo cover, use it to cover items in the rear of the vehicle.
Hatchback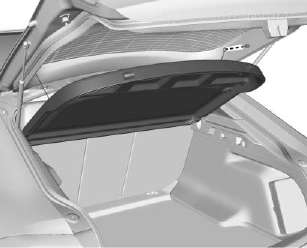 To remove the cargo cover:
1. Remove both cords from the hooks on the liftgate.
2. Push up on the front sides of the cargo cover.
3. Remove it from the vehicle.
To install the cargo cover:
1. Align the clips on the underside of the cargo cover over the pins on both sides and push down.
2. Reconnect both of the cords to the hooks at the top of the liftgate.
Wagon
Pull the handle toward the rear and up until it engages in the side retainers.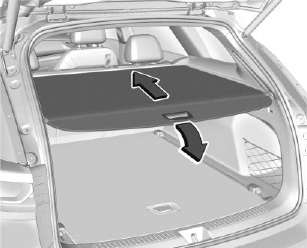 Pull the handle to the rear and down. It rolls up automatically.
Removing the Cargo Cover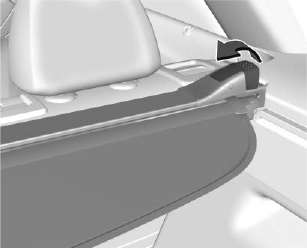 Pull the release lever on the right side up and hold it. Lift the right side and remove from retainers.
Installing the Cargo Cover
Insert the left side of the cargo cover in recess, then pull release lever up.
Hold and insert the right side of the cargo cover in recess and engage.
Cargo Tie-Downs (Wagon)
There is a movable system to secure items on the load compartment floor.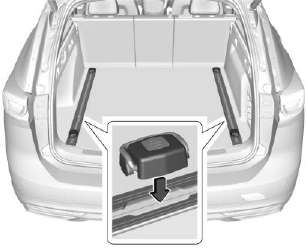 Insert the tie-downs into the rails and press the button while inserting it.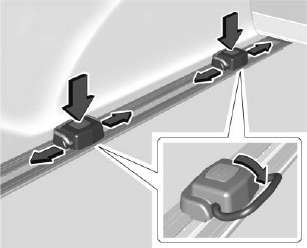 Press the button on a tie-down and slide it to the required position. Fold up the tie-downs to use them.
To remove the cargo tie-downs, fold them down, press the button and remove.
Convenience Net
If equipped, the convenience net is in the rear cargo area and can be used to store small loads. The net should not be used to store heavy loads. Attach the loops on each side of the net to the hooks located on the sides of the rear cargo area.
READ NEXT:
Steering Wheel Adjustment To adjust the steering wheel: 1. Pull the lever down. 2. Move the steering wheel up or down. 3. Pull or push the steering wheel closer or away from you. 4. Pull the lever
Warning: lights and gauges can signal that something is wrong before it becomes serious enough to cause an expensive repair or replacement. Paying attention to the warning lights and gauges could prev
SEE MORE:
CAUTION: The tire should be dismounted from the wheel using the tire changer manufacturer's instructions. Use the following information to avoid damage during the dismounting/mounting procedures. NOTE: If vehicle's tires are replaced with those not having a TPC Spec number, the TPM system may give
Rear Wheel Bearing and Hub Replacement (AWD) Removal Procedure 1. Remove the rear tire and wheel assembly. 2. Rear Wheel Speed Sensor - Remove. 3. Rear Wheel Drive Shaft@Rear Wheel Bearing and Hub Assembly - Separate. Rear Wheel Drive Shaft Replacement - Left Side Rear Wheel Drive Shaft Replace